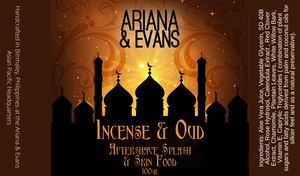 This is an extremely warm & inviting scent. This may very well be among my favorites. You may think this is only a cool weather scent, but I'll tell you this is a superb year round scent for day or night. You'll definitely want to smell like this on date night though. 


Notes: Smoldering Incense, Oud, Himalayan cedar, Mysore Sandalwood, Arabian Sandalwood
Splash Ingredients: Aloe Vera Juice, Vegetable Glycerin,  SD 40B Alcohol, Rose Hydrosol, Calendula Extract , Red Clover Extract, Chamomile, Plantain Leaves, White Willow Bark, Vitamin E, Caprylic Triglycerides ( combination of plant sugars and fatty acids derived from palm and coconut oils for silkier feel and as a natural preservative).