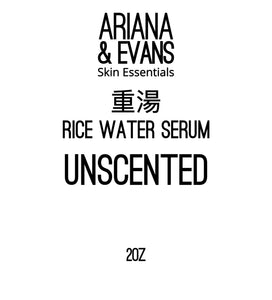 Rice water has been used in Asian skincare daily rituals for centuries; it is the secret behind complexion that is clear and glowing. Rice water is gentle, brimming with skin-healthy nutrients and reletively unknown in America. During my last trip to Asia in February 2020, I learned for the first time of these benefits and I'm bringing them to you. 

The reason rice water is so good for your skin is that it is rich in a lot of nutrients. For starters, around 16 percent of its composition consists of proteins which are the building blocks of skin cells. It is also enriched with triglycerides, lipids and starch, which are all responsible for enhancing skin health in various ways. Carbohydrates, inositol, phytic acid and inorganic substances make up the rest of the composition, making rice water an ideal ingredient for achieving glowing skin.
The skin brightening enzymes present in rice water make it a key ingredient in Japanese and Korean everyday skincare regiments. It is known to fade dark spots, blemishes and brighten up the complexion for a clear and smooth texture.
Rich in antioxidants, rice water has shown to inhibit the action of elastase, a compound that causes damage to elastin in your skin and leads to premature aging. That is why rice water can safely be used to delay and reduce the appearance of aging signs on the skin.
Some studies have found that rice starch can be beneficial in repairing and maintaining the natural barrier of the skin. This can be helpful to prepare your skin to fight eternal aggressors and prevent issues like atopic dermatitis and protect against pollution damage.

Rice water can have a pore tightening and toning effect when used on oily skin. 

This incredible serum is presented in a 2oz frosted glass bottle with pump
Ingredients: Fermented rice water, Aloe Juice, Glycerin,  Emulsifying Wax, Stearic Acid, Japanese Camellia oil, DMAE, MSM, Vitamin E, Jojoba Oil, Hibiscus Sabdariffa, Organic White Willow Bark Extract (Salix Alba), Tea Tree Leaf Oil (Melaleuca Alternifolia), Provitamin A, Vitamin B3, Vitamin C Ester, Provitamin B5, Organic Neem Seed Oil, Organic Rosemary Leaf Extract, Helianthus Annuus, Lecithin, Sorbitol, Organic Alcohol, Propylene Glycol, Xanthan Gum, Sodium Cocoyl Isethionate, Tetrasodium Glutamate Diacetate, Optiphen Plus
Sorbitol is a naturally occurring sweetener that is found in many fruits and plants. Sorbitol was first identified in the berries of a tree called the mountain ash, Sorbus aucuparia, by a French chemist in 1872. It can naturally be found in foods such as apples, pears, peaches, and prunes. Sorbitol is a sugar alcohol that is used in skincare as a hydrating and moisturizing agent. Sorbitol also functions as a thickener, improving the texture of formulations. Sorbitol also acts as a prebiotic ingredient, helping to feed the naturally occurring bacteria on the skin.