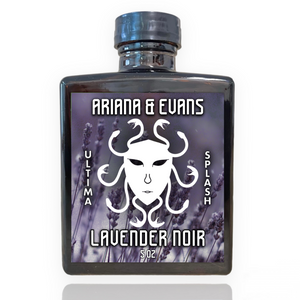 Lavendar Noir is a warm & somewhat dark lavender scent which I think will become a big time crowd pleaser. I'm not aware of anything smelling quite like this and believe this will represent our luxury line quite well. As mentioned, Lavender Noir offers a very warm and wonderful lavender fragrance using two types of lavender. LN  leads with its tangy passion of Bergamot, while lavender and geranium blend into a fresh note, chic and chivalrous all at once. The lavender is most prominent. I'm using two types of lavender. Lavender absolute, which is paste-like and lavender Grosso a beautiful French hybrid. The composition is enhanced by the natural elegance of pink pepper, which I use quite often. The base settles on a bed of vanilla and agarwood with an intriguing note of coffee added. Lastly, I used Siam Benzoin direct from Thailand.
bergamot, mandarin, lavender, geranium, sambac jasmine, oud, patchouli, amber, pink pepper, vanilla, coffee, amber, patchouli, benzoin.
Ingredients: Aloe Vera Juice,  SD 40B Alcohol, Rose Hydrosol, Vegetable Glycerin, Emu Oil, Calendula Extract , Red Clover Extract, Chamomile, Plantain Leaves, White Willow Bark, Vitamin E, Hyaluronic Acid,  Caprylic Triglycerides ( combination of plant sugars and fatty acids derived from palm and coconut oils for silkier feel and as a natural preservative).