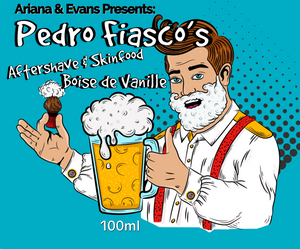 Pedro Fiasco is a man with no equal. He's worldly, tall, dark & handsome. A jet-setter with charm and sex appeal. Super models swoon and men wished they could be... Pedro Fiasco. 

Pedro has taken his entrepreneurial spirit (as if he needed money) to take over the wet shaving world one soap at a time. Pedro is proud to offer his latest & greatest shaving cream. Soon you'll be able to smell like a legend.
Splash Ingredients:  Aloe Vera Juice, Vegetable Glycerin,  SD 40B Alcohol, Rose Hydrosol, Calendula Extract , Red Clover Extract, Chamomile, Plantain Leaves, White Willow Bark, Vitamin E, Caprylic Triglycerides ( combination of plant sugars and fatty acids derived from palm and coconut oils for silkier feel and as a natural preservative).