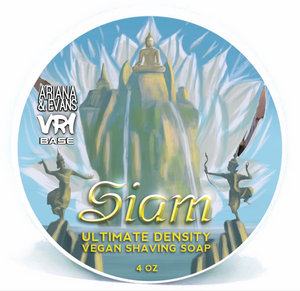 This soap is made in our VR1 High Density Vegan Base
Siam (Thailand) is a scent based upon my visit to the south of Thailand, just north of Phuket and away from the hustle & bustle of the city. Pure serenity and opulence. I stayed in the town of Kamala, a quiet ocean front oasis. Gardens abound, a feast for my senses. I would periodically write in my Evernote app ideas, scent notes that I smelled and the cornucopia of fragrances which permeated through the warmth of the air. The resort had this beautiful spa, which was surrounded by foliage of tropical plants and flowers. It's this spa which inspired Siam.
Notes: Mandarin, lemongrass, ylang ylang, green tea, black tea, orchid, lotus, bamboo, Thai vetiver (imported from Thailand),sandalwood and musk.
VR1 Ingredients: Stearic acid, water, Kokum, Shea, glycerin, potassium hydroxide, castor oil,, Rice Milk, sodium hydroxide, sunflower oil, palm oil, avocado oil, cocoa butter, jojoba oil, Coconut Milk, sodium lactate, coconut oil, colloidal oatmeal, agave, aloe juice, hyaluronic acid, slippery elm