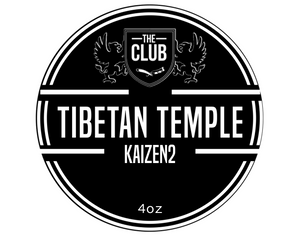 This has been a long time coming and I wanted this to be perfect before releasing. I think we achieved this. In the end, I added more deeper base notes for a warmer scent. 
Tibetan temple is a mix of sweetness & darkness. Beautiful wood notes, florals, ceremonial incense and tobacco leaf with a beautiful honey note borrowed from what I used in Ouddiction. 
Notes: Tobacco leaf, honey, iris, sandalwood, amber, musk, frankincense, myrh, smoke, rose, patchouli, Himalayan cedar and hay.
Kaizen 2e Ingredients: Stearic Acid, Beef Tallow, Aqua, Goats Milk, Potassium Hydroxide, Kokum Butter, Shea Butter, Beer, Castor Oil, Sodium Hydroxide, Glycerin, Aloe Juice, Avocado Oil, Apricot Kernel Seed Oil, Lanolin, Agave, Sorbitol, Slippery Elm, Sodium Lactate, Xanthan Gum, Emu Oil, Hyaluronic Acid, Silk Amino Acid, Colloidal Oatmeal, Yogurt, Tussah Silk, Marshmallow Root, Fragrance