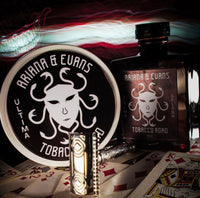 A NEW STANDARD IN SHAVING SOAPS
Many have been anticipating the public release of our luxury line, known as Ultima. From packaging to performance, everything about Ultima speaks luxury; setting a new benchmark in shaving soaps and aftercare. We have always endeavored to be the very best we can be. Kaizen, a Japanese term for constant improvement is our mantra. The evolution of the brand and extraordinary growth of the company proves we're no flash in the pan. We take risks, we explore, we create and go against the grain. A traditional company that's very untraditional. This is Ariana & Evans.
ULTIMA
How to build a lather
It all begins with a great shaving soap. A&E and Club branded soaps are among the best in the industry and will work with any type of brush or water.  If you are a beginner, we recommend a good synthetic, as they're virtually maintenance free and super easy to build a superb lather. This is personal preference.

1. Fill your bowl (if bowl lathering) with hot water and warm your bowl & brush together.
2. Place brush into bowl  and soak for 5 minutes or so. Most people do this while showering and most effective using a natural hair brush.
4.  Remove brush  and squeeze bristles lightly to get rid of excess water. You can also give it a few light shakes as well.  
5. Start load your brush by swirling brush in soap jar using circular motion. We recommend light to medium pressure. Add some plunger motions as well. This will help in significantly building up your lather.  Continue swirling until a paste-like consistency begins to form on the top of the soap and on the brush. 
Bubbles (like a hand soap or bubble bath) are the result of too much water. 
Continue to swirl until it's pasty and almost looks like Elmer's glue. I personally love this consistency. 
6. You can now build your lather on face or use a soap bowl. Either one will work just fine. 
7. Add water as needed- a few drops at a time. I will normally wet my hand slightly from faucet and let a few drops drip from hand onto brush. Most of the time a few drops is all that's needed to make a difference. Our soap in particular can handle a large range of water and is quite thirsty, so don't be shy if you'd like to experiment by adding more water.   The consistency of the lather should be Greek yogurt-like, with a nice dense lather. The lather should feel slick, cushiony and protective.
Enjoy your shave!