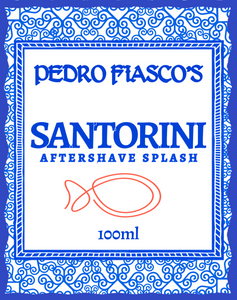 My grandfather (on Greek side) we called Pappouli. He drank ouzo with his coffee every day. Sometimes a bit too much 🤣 and would fall asleep at the cash register (family restaurant). He would have loved this. Pappouli was from Sparta.
Santorini is our latest aquatic with a hint of Ouzo. It smells amazing with a nighttime vibe. I added lemon, as we all know the Greeks love lemon. 

Notes: Maglini Lemon, Osmanthus, Orchid, Cassis, Aquatic & Marine notes, Ozone, Ouzo, Musk, Amber, Myrrh
Splash Ingredients:  Aloe Vera Juice, Vegetable Glycerin,  SD 40B Alcohol, Rose Hydrosol, Calendula Extract , Red Clover Extract, Chamomile, Plantain Leaves, White Willow Bark, Vitamin E, Caprylic Triglycerides ( combination of plant sugars and fatty acids derived from palm and coconut oils for silkier feel and as a natural preservative).