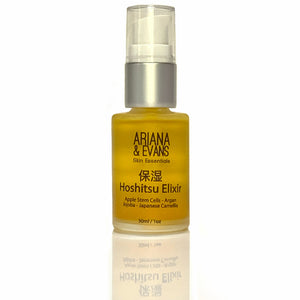 Hoshitsu, which means moisturizing in Japanese, was designed to be incredibly moisturizing without clogging pores or feeling greasy. We chose ingredients which not only feel good on the face, but will help retain moisture, protect skin, heal skin, increase collagen production and retain a more youthful appearance over time. 
When your skin is dry and your eyes hollow, a quality product can help your face become firmer and more hydrated. But experts are quick to point out that collagen alone doesn't necessarily increase collagen—and it's definitely not a quick fix for fine lines and wrinkles.
To maximize anti-aging benefits, Hoshitsu Elixir was developed with a supporting cast of  ingredients known to play a role in collagen production and cell regeneration with Apple Stem Cells.
Ingredient Superstars 
APPLE STEM CELLS
The plant stem cell extract from the Uttwiler Spatlauber apple tree, which is also patented as PhytoCellTec Malus Domestica, has been shown to:
Stimulate human stem cell growth and division

Defend human stem cells against damage or death from UV light

Combat age-encouraged alterations in human cells.

Reduce the depth of crows feet and remove wrinkles from close to 100% of test subjects.
COLD PROCESSED ROSEHIP OIL

Reduces Wrinkles - anti inflammatory fatty acids, antioxidant, vitamin A & C. Fast absorption allows for the reduction of fine lines and wrinkles.
Anti Aging - High levels of vitamin C protects and repairs UV-damage and helps reduce wrinkles. Rosehip Oil may help your skin regain elasticity 
Antibacterial - Phenols in the reship oil have antibacterial, antiviral and antifungal properties.
GRAPESEED OIL

Protects against free radicals
Moisturizes and balances the skin - Improves moisture retention by reducing transpidermal water loss (where skin loses water via evaporation)
Reduces Inflammation - According to a review published in MolecularJournal of International Sciences, the phytosterols (type of molecule found in plants) may help control the skin's  inflammatory response
ARGAN OIL

Reduces skin's oiliness - sebum reducing capabilities help reduce the 'sheen' on your skin due to oily skin.
Moisturizing
Improves wound healing
Anti-Aging 
JOJOBA OIL
Long used by Native Americans for its many benefits, Jojoba Oil is produced from the seed of the Jojoba plant, a shrubby tree that is native to southern Arizona and California.
  
Benefits of Jojoba Oil
1.  Deeply-Hydrating. It is lighter than other face oils and easily absorbed into skin. It deeply penetrates to soothe and soften while providing an excellent moisturizing effect and adding a healthy glow.
2.  Long-Lasting Moisturization. It doesn't evaporate like water-based moisturizers, which is very important when your skin is exposed to the environment. Studies have shown that jojoba oil provides a substantial long-acting layer of moisture. 
3.  Nutritious for Skin. Jojoba is full of nutrients like Vitamin E and B, as well as antioxidants and minerals like chromium, copper, and zinc, which all nourish and protect skin. Organic, cold-pressed, jojoba oil has the highest level of antioxidants and nutrients.
4.  Anti–Aging. Because it is the perfect moisturizer, Jojoba can help slow down the appearance of aging, and help to fade fine lines and wrinkles. In dermatological tests, it was shown that jojoba oil increases the skin's suppleness and the effect was still present as time passed. Tests also showed continued use of Jojoba oil resulted in reducing superficial facial lines.
5.  Non-Acnegenic. Because Jojoba oil is very similar to human skin oils, its use can trick the skin into thinking it has produced enough oil and thus balance oil production, without promoting acne or other skin problems. Jojoba also naturally deters microbes, helping to prevent the growth of bacteria on skin.
6.  Easy, Not Greasy. Because Jojoba oil is very similar to our own skin oils, it immediately penetrates skin and smoothes easily, helping to promote healthy, glowing skin without clogging pores or leaving a greasy residue.
7.  Soothes Sunburn. Jojoba oils hydrating action soothes sunburn and helps reduce the chances of peeling.
8.  Gentle & Non-Allergenic. Jojoba oil is recommended for people with sensitive skin (including psoriasis and eczema) because of its gentle nature. Applying Jojoba oil to compromised skin can help reduce flare-ups.
9.  Soothes Dry Skin. Jojoba oil has anti-inflammatory properties which help to tame chaffing and chapping, reduce redness caused by drying, ease the effects of eczema and rosacea, and keep skin calm and comfortable. The Vitamin E and B-complex vitamins in the Jojoba oil help in skin repair and damage control.
10.  Anti–Microbial. Jojoba oil naturally deters microbes, helping to prevent the growth of bacteria on skin. This property makes it useful for those with acne, and also provides an added wound-healing benefit. Bonus: Jojoba oil acts as a natural preservative.
 
Ingredients: Argan Oil, Moringa Oil, Jojoba Oil, Camellia Oil, Rosehip Seed Oil, Grape Seed Oil, Hemp Seed Oil, Aloe Vera Oil, Pomegranate Seed Oil, Apple Stem Cells, Collagen