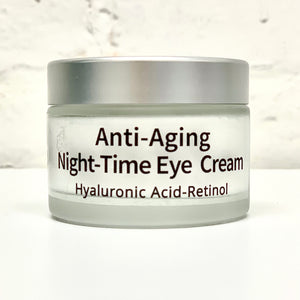 Retinol is a derivative of vitamin A that helps boost collagen production and aid in cell turnover. 
Retinol helps reduce the tell-tell signs of aging to include, fine lines, wrinkles, and reducing crows-feet.   

Hyaluronic Acid is nature's very own moisturizer. It occurs naturally in the body and in abundance when you're younger, however the quantity of Hyaluronic Acid in our bodies decreases as we age.

Young skin is smooth and extremely elastic because it contains high levels of Hyaluronic Acid. The subsequent loss of this vital compound and the hydration it provides, decreases elasticity and smoothness with age.
Due to its extraordinary ability to store a large volume of water in relation to its weight, Hyaluronic Acid is one of the most common ingredients of skincare products and now will be used in Kaizen 2 as well. This will make the enable our eye cream to naturally eliminate your face wrinkles because the pure hyaluronic acid used in conjunction with retinol is one of the strongest hydrators. Our Night-Time Eye Cream comes in a generous 1.7 ounce frosted glass jar.


Reduces the appearance of crow's feet and wrinkles
Improves the look of dark circles and puffiness
Immediately enhanced radiance around the eyes
Restores comfort to dry, aging skin
Ingredient:  Water, Grapeseed Oil, Organic Jojoba Seed Oil, Emulsifying Wax, Stearic Acid, Vitamin C, Evening Primrose Seed Oil, Vitamin E, Sunflower Seed Oil, Phenoxyethanol, Witch Hazel Water, Organic White
Willow Bark Extract, Organic Neem Seed Oil, Organic rosemary Leaf Extract, Hyaluronic Acid, Retinol,, Xanthan Gum, Tetrasodium Glutamate Diacetate,