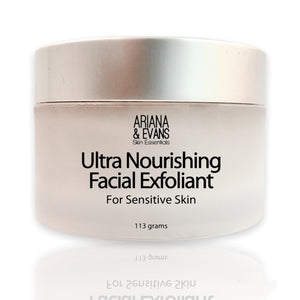 Our Skin Essentials line was developed to support the skin's natural functions and leave your skin looking and feeling its best.
Our Ultra Nourishing Exfoliant features hyaluronic acid and our super fine walnut powder which removes dead skin without damaging your skin's delicate surface. In addition, we have blended mallow, sage and yarrow extracts, which deeply cleanse without stripping away moisture to reveal a smoother and more radiant-looking skin. Our nourishing exfoliant not only gently cleanses and removes dead skin, but will over time improve your skins appearance. In addition, our exfoliator will leave your skin supple, smooth and as if you just went to a spa. The softness and nourishing feeling you'll receive is unlike any exfoliating product you have experienced before.
Due to the use of active, natural ingredients, the appearance of this product may vary.
Ingredients: Glycerin, Filtered Water, Moroccan Argon Oil, Sodium Cocoyl Isethionate (derived from coconuts), Vegetable Stearic Acid, Jojoba Oil, Sodium Chloride & Phenoxyethanol