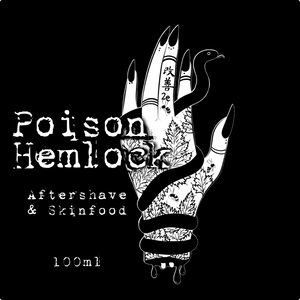 Ive been working on this scent for quite some time. I'm incredibly proud how this finally came together. Poison Hemlock is difficult to categorize. Is it a gourmand (no), is it an Oriental type fragrance? The scent is dark, yet uplifting, tart & sweet, fresh & dirty…it's magnificent. The black hemlock absolute used is wonderful and very resinous & thick. The black currant & fig counter balance each-other and provide the added warmth bringing to life this scent. The addition of rose absolute & violet also play really well with the very dark notes such as Labdanum and of course the hemlock.  The additional note of incense really turn this into an exotic and intoxicating scent.
Notes: Blood orange, bergamot, black currant, fig, rose absolute, violet, black hemlock absolute, incense, pine tar, cedarwood, sandalwood
Splash Ingredients:  Aloe Vera Juice, Vegetable Glycerin,  SD 40B Alcohol, Rose Hydrosol, Calendula Extract , Red Clover Extract, Chamomile, Plantain Leaves, White Willow Bark, Vitamin E, Caprylic Triglycerides ( combination of plant sugars and fatty acids derived from palm and coconut oils for silkier feel and as a natural preservative).