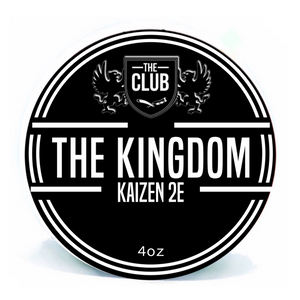 NOW AVAILABLE IN K2e
Wood, leather, marble and gold. These luxurious elements of a Persian palace are the inspiration behind the architecture of The Kingdom. Precious, sweet oud is carefully extracted from agarwood trees, a carefully guarded resource that grows only in certain parts of Asia. Oud is incredibly expensive and difficult to find.Our Oud is a wonderful synthetic oud, which resembles Cambodian Oud. I have spent a great deal of time researching and traveling to find the very best available. That being said, this is not an Oud forward scent. This is a wonderful woody, oriental with warmth and complexity which you would expect from Ariana & Evans. There is that wonderful unmistakable Oud note in the background.  Pairs exceptionally well with Creed Royal Oud.
Woody, oriental, rich.
lemon peel, berries, Calabrian bergamot, cedar, galbanum, sandalwood, oud and musk.
Kaizen 2e Ingredients: Stearic Acid, Beef Tallow, Aqua, Goats Milk, Potassium Hydroxide, Kokum Butter, Shea Butter, Beer, Castor Oil, Sodium Hydroxide, Glycerin, Manteca, Aloe Juice, Avocado Oil, Apricot Kernal Seed Oil, Lanolin, Agave, Sorbitol, Slippery Elm, Sodium Lactate, Xanthan Gum, Hyaluronic Acid, Silk Amino Acid, Colloidal Oatmeal, Yogurt, Tussah Silk, 
Marshmallow Root, Fragrance