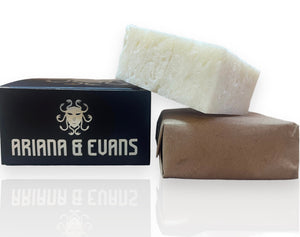 Our Ultima Cleansing & Conditioning Bars are the best you will ever experience. It's rare to find a product that does so many things so well. Our cleansing bars are superb for the face, body, hair & beards and loaded with skin loving ingredients. Our bars are gargantuan, weighing between 7.5-8.0 Ounces. They will easily last 4-5x longer than other products in the market.
ULTIMA SUPERSTAR INGREDIENTS
Shea Butter 
Shea Butter moisturizes without clogging pores
It's natural, so no side effects or harsh reactions on babies and on those with sensitive skin
Resists wrinkles
Includes Vitamin A which helps rebuild the cells
Includes Vitamin E which is an antioxidant
Olive Oil
Olive oil has high amounts of antioxidants that resist free radicals and oxidation,

 allowing your body to produce vital proteins keeping your skin clean, healthy, and free of acne.

It is a rich source of vitamins like 
vitamins A and E, as well as minerals, and enzymes that are important for looking and feeling your best. It's also high in

 

beta carotene, a natural component that helps to

 

promote new cell growth

 

and make your skin look younger and brighter.
Olive Oil in soaps has been used for over a thousand years in ancient Greek & Roman cultures

 
Helps to retain the skin's natural moisture and prevent the development of dry and flaky skin.
Tallow
Tallow is incredibly similar to the chemistry of our own skin. So, when issues like dryness, acne, or eczema arise, tallow can soothe the skin and provide the exact mineral requirements needed for optimal healing.
Around 47% of the fatty acid composition of tallow is oleic acid.  This acid is classified as a monounsaturated omega-9 fatty acid and is mostly known as an amazing ingredient for dry or aging skin because it can easily and deeply penetrate the skin's surface. Inside the dermis, it replenishes lost moisture and stops additional transepidermal water loss.

It is extremely effective in providing intense moisture to dry skin. It absorbs easily and prevents dryness at the cellular level without suffocating the skin's barrier. 
Tallow is nourishing and high in vitamins like A, D, E, and K. Vitamin E is especially important for

 

aging skin since it has potent antioxidative properties that protect the skin cells from damaging UV light and reduce existing damage. With this, tallow effectively handles free radicals and prevents fine lines and superficial wrinkles from developing. With regular use, you can feel your skin becoming softer and more radiant. Vitamin E has also been shown to prevent the breakdown of collagen.

 
Mango Butter
Mango butter contains antioxidants, AHA's, and skin-friendly Vitamin that A: Help in removing dirt and oil from the pores. B: Slow down the signs of aging. C: Stimulate the production of collagen. 
Mango is considered a powerhouse of two popular anti-aging vitamins i.e. Vitamin A and E. These vitamins protect the skin from damage caused by external factors like sunlight, pollution, dust particles, etc.
Mango naturally contains an antioxidant known as "Mangiferin" that helps in providing relief from inflammation caused by acne as well as some skin diseases.

Mango Butter offers collagen-boosting properties helping enhance skin elasticity. 
Jojoba Oil
Jojoba oil has natural moisturizing properties like many other oils. Its unique makeup of wax esters and fatty acids allows it to be absorbed deeply into your skin, rather than just sitting on top. This allows it to hydrate, soften, and nourish the deeper layers of skin.

One huge benefit to using jojoba oil on your skin is that it can help to even out sebum production. Jojoba has a very similar composition to sebum and is "recognized" by your skin. This makes it balancing for both oily and dry skin types.
Along with hydration, jojoba oil also provides your skin with an antioxidant boost. It contains a range of antioxidants, including flavonoids and phenolic compounds, but is particularly rich in vitamin E.
Ingredients: Stearic, Water, Shea Butter, Olive Oil, Castor Oil, Glycerin, Beef Tallow, Avocado Oil, Palm Fruit Oil, Mango Butter, Sunflower Oil, Shorea Butter, Jojoba Oil, Argan Oil, Cupuacu Butter, Emu Oil, Fragrance, Coconut Oil