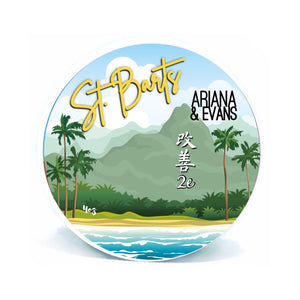 St. Barts beautifully blends lime, coconut and rum into a warm, creamy scent. Despite the notes, this does not smell like a boozy concoction or a gourmand. Rather, this high-end niche type fragrance smells like skin warmed by the sun and tropical islands.
This was inspired by Creed Virgin Island Water and is remarkably close to it's inspiration. The coconut is so light and fresh, just out of its shell.  The lime is crisp and green, freshly squeezed and aromatic. Soon after the lime and coconut, the white rum note arrives. St. Barts smells natural, clean and sophisticated...not synthetic at all.  I'm very proud to offer this as part of our Ariana & Evans line.
Notes Include:  Bergamot, Lime, Mandarin, Coconut, Indian jasmine, Sweet Hibiscus, Ylang-Ylang and Ginger. The Base includes Sugar Cane, Musk, a slight hint of Sandalwood and White Rum.

This soap would be considered a croap and arrives in a 4oz plastic jar.
Kaizen 2e Ingredients
: 
Stearic Acid, Beef Tallow, Aqua, Goats Milk, Potassium Hydroxide, Kokum Butter, Shea Butter, Beer, Castor Oil, Sodium Hydroxide, 
Glycerin, Aloe Juice, Avocado Oil, Apricot Kernel Seed Oil, Lanolin, Agave, Sorbitol, Slippery Elm, Sodium Lactate, Xanthan Gum, Emu Oil, Hyaluronic Acid, Silk Amino Acid, Colloidal Oatmeal, Yogurt, Tussah Silk, 
Marshmallow Root, Fragrance