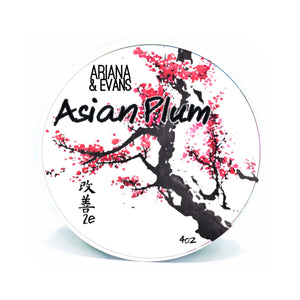 Asian Plum in our K2e Base
Asian Plum was originally made as a gift for testers of my tallow based, goats milk & lanolin soap. Anthony Esposito had suggested that we come up with a plum type scent for the guys and mentioned one of his favorites, a European soap which is extremely difficult to find...truly unobtanium. I took this as a challenge and embarked on this journey to create a soap, reminiscent of this great mysterious shaving soap. Another friend and fellow vip member sent a sample as a comparison. The rest is history!   I added many of the same notes found in the original, however, I wanted to put my own spin on this great scent. Once comfortable I had something that would be a good rendition of the original, I sent along to the group. The response was terrific, so I made it available for you as well. 
Ours is stronger, brighter, sweeter and more complex. Our top selling soap of all time.
Asian Plum Shaving Soap will be presented in our  low profile jar with 4 oz of soap.
Notes: Plum, dried fruits, tobacco, tonka bean, coffee, vanilla and a touch of Plumeria.
Kaizen 2e Ingredients: Stearic Acid, Beef Tallow, Aqua, Goats Milk, Potassium Hydroxide, Kokum Butter, Shea Butter, Beer, Castor Oil, Sodium Hydroxide, Glycerin, Manteca, Aloe Juice, Avocado Oil, Apricot Kernal Seed Oil, Lanolin, Agave, Sorbitol, Slippery Elm, Sodium Lactate, Xanthan Gum, Emu Oil, Hyaluronic Acid, Silk Amino Acid, Colloidal Oatmeal, Yogurt, Tussah Silk, Marshmallow Root, Fragrance