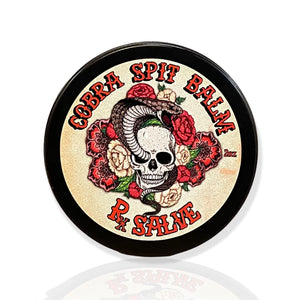 INTRODUCTORY PRICE
STEP 2 RX Salve with Butter Beads
Our Cobra Spit Rx Salve is an effective Triple Action Antibacterial Salve containing natural Tea Tree Oil, Shea Butter, Kokum Butter, Sunflower Oil and Emu Oil. This exclusive salve formula aids in tattoo cleansing, soothes tattoo irritation and creates a barrier to protect from germs, bacteria and water.
For use on tattoo's, as well as other skin irritations, wounds or scrapes.
Features the powerful salicylic acid and tea tree oil with hygienic properties
Contains emu oil and tea tree oil to help promote healing
Added benzocaine and menthol to help soothe skin irritation
Protect your Tattoo during the most critical phase
Butter Beads instantly melt into skin when applied. These granular beads of Kokum & Shea butters provide your skin with:
BOOSTS SKIN MOISTURE

ANTI-INFLAMMATORY PROPERTIES

TATTOO HEALING - SHEA BUTTER IS RICH IN FATTY-ACIDS, WHICH HELP TO SOFTEN SCAR TISSUE AND SPEED UP THE HEALING PROCESS. RESEARCH FROM THE JOURNAL WOUNDSSUGGESTS IT MAY BE PARTICULARLY EFFECTIVE IN HELPING PREVENT KELOID SCARS — THE KIND OF SCAR THAT'S RAISED, RED AND RUBBERY — FROM FORMING

KOKUM BUTTER SOOTHES INFLAMMATION - KOKUM BUTTER IS OFTEN USED TOPICALLY TO ALLEVIATE SKIN INFLAMMATIONCAUSED BY WOUNDS, CUTS, FRESH TATTOOS & BURNS.

Benefits of Emu Oil: Emu oil has been used by the Australian Aboriginal culture for 40,000 years. This 'miracle' oil' has been used for everything from minor aches, to helping wounds heal quicker and protect skin from the elements. We have married emu oil which is something we as a company use in our other business with Tea Tree Oil, providing you with the most effective Second Step Treatment in protecting your new tattoo.
Our Salve is generously portioned in a 2 ounce black tin
Ingredients: Shea butter, cocoanut oil, kokum butter, sunflower seed oil, menthol, sorbitan monooleate, polysorbate 80, cajaput oil (melaluca lucadendron – tea tree oil), thyme oil, cornmint oil, clove stem oil, benzocaine, sodium edetate disodium, benzalkonium chloride,salicylic acid, butylated hydroxytoluene, echinacea, emu oil in a beeswax/petrolatum base.