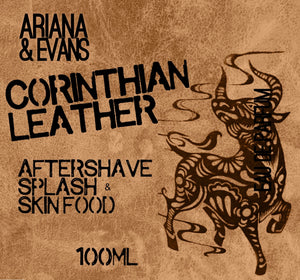 Ricardo Montalban would be proud of this rich, luxurious and rare leather scent created from 'Corinthian Leather'.


This particular scent took most of 2021 to create. I loved it so much, I decided to make available now the eau de parfum and not wait for a later date.  It's really a beautiful, classy & masculine scent. 

Notes: Blood Orange, leather, suede, galbanum, clary Sage, tomato leaf, elemi, saffron, mimosa, vanilla absolute, coumarin, Somalian myrrh, Australian sandalwood, agarwood, cashmere, labdanum
Splash Ingredients: Aloe Vera Juice, Vegetable Glycerin,  SD 40B Alcohol, Rose Hydrosol, Calendula Extract , Red Clover Extract, Chamomile, Plantain Leaves, White Willow Bark, Vitamin E, Caprylic Triglycerides ( combination of plant sugars and fatty acids derived from palm and coconut oils for silkier feel and as a natural preservative).