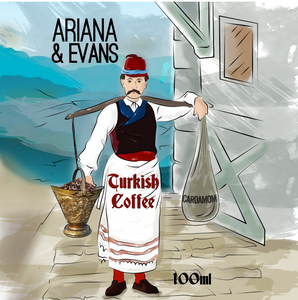 I have always loved Turkish coffee! I don't recall ever seeing a soap with this unique scent, so I decided to try creating something uniquely A&E. The aroma is fabulous. I chose to add a hint of fig, as these are widely grown in the mediterranean and especially in Turkey, as well as Greece. Obviously, it wouldn't be Turkish coffee without the spice Cardamom. This sets off the arabic coffee perfectly and smells divine.
Notes: Bergamot, Arabic Coffee, Fig, Cedarwood, Cardamon, Australian Sandalwood
Splash Ingredients: Aloe Vera Juice, Vegetable Glycerin,  SD 40B Alcohol, Rose Hydrosol, Calendula Extract , Red Clover Extract, Chamomile, Plantain Leaves, White Willow Bark, Vitamin E, Caprylic Triglycerides ( combination of plant sugars and fatty acids derived from palm and coconut oils for silkier feel and as a natural preservative).