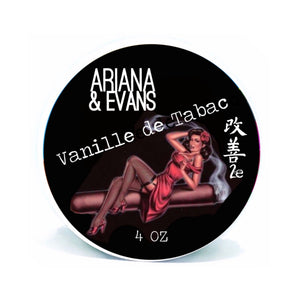 Vanille de Tabac is a a smooth oriental, opening immediately with opulent essences of tob*cco leaf and aromatic spice notes. The heart unfolds with creamy tonka bean, tob*cco flower, vanilla and cocoa and finishes with dry fruit accord enriched with sweet wood sap.
If you like TFTV, you'll find this is probably the most realistic in the industry.
Notes: Tob*cco leaf, ginger, spice notes, tonka bean, cocoa, fruit accord.
Try our matching splash.  It's a must have!
Kaizen Base Ingredients: Stearic Acid, Beef Tallow, Aqua, Goats Milk, Potassium Hydroxide,  Kokum Butter, Shea Butter, Castor Oil, Cocoa Butter, Sodium Hydroxide, Glycerin, Manteca, Aloe Juice, Avocado Oil, Hemp Seed Oil, Apricot Kernal Seed Oil, Lanolin, Agave, Slippery Elm, Sodium Lactate, Xanthan Gum, Silk Amino Acid, Tussah Silk, Marshmallow Root, Fragrance.