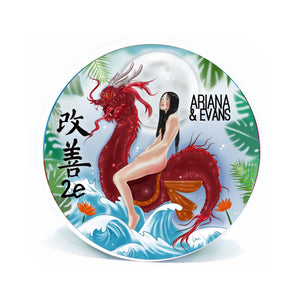 Project Kaizen - To Constantly Improve
The soap which started the Kaizen phenomenon! The Kaizen base is considered among the best shaving soaps in the industry and has a worldwide following of enthusiasts from all corners of the universe.   When I created my first shaving soap, my goal was for our base to be considered among the top soaps available at that time. I believe we accomplished this. I immediately started work on improving our first base and subsequently introduced a new base which included the addition of yoghurt and manteca (pig fat). This improved the lather, post shave & consistency. That release really put us on the map. We started to hear words like elite, top tier etc. I'm not sure what that means, but it definitely increased our profile. Many considered that base among the top 1-5 bases in the industry. I knew I could do better and secretly embarked on project Kaizen. 2019 saw many artisans raise the bar. The top soaps were interchangeable. Several artisans were vying for top spot and many could arguably make this claim. I decided to hold off introducing Kaizen until the dust settled. Instead, I tweaked the previous base, keeping the same ingredients and just changed up the ratios. I introduced that updated base with Asian Pear. That updated base further improved slickness and density of lather. This was just a bridge to Kaizen. Kaizen was a game changer for us in 2020 and we never looked back nor did we follow the crowd. We always have forged our own path. This continues today with K2e.
I wanted our artist Dorian to create a label which personified our branding for this particular soap. I knew I would launch the first soap under the same name, so it needed to have an Asian influence. I wanted it to be whimsical, edgy, sexy, colorful and grab your attention. She did a superb job creating this label!  The scent is a bit brighter than I would normally introduce. Even our previous fruit themed soaps like Asian Pear, Asian Plum and Summer Fig offer a hint of darkness which I left out. Kaizen is happy, sunny, bright and deliciously sweet (although I toned down the sweetness just prior to release). I hope you love this new soap base as much as I do.


IF SOLD OUT, TRY OUR SISTER STORE ARIANA & EVANS  aegrooming.com
Scent Notes: Mandarin, Calabrian Bergamot, Lemon Peel, Neroli, Honeysuckle, Green Apple, Rose, Tobacco Absolute, Haitian Vetiver, Sandalwood, Cedarwood 
Kaizen 2e Ingredients: Stearic Acid, Beef Tallow, Aqua, Goats Milk, Potassium Hydroxide, Kokum Butter, Shea Butter, Beer, Castor Oil, Sodium Hydroxide, Glycerin, Manteca, Aloe Juice, Avocado Oil, Apricot Kernal Seed Oil, Lanolin, Agave, Sorbitol, Slippery Elm, Sodium Lactate, Xanthan Gum, Emu Oil, Hyaluronic Acid, Silk Amino Acid, Colloidal Oatmeal, Yogurt, Tussah Silk, Marshmallow Root, Fragrance