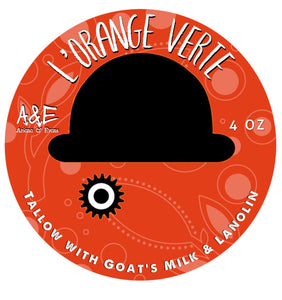 The update of LOV in K2e is right on time...like clockwork.  I think the 'droogs' would approve of this . 
L'Orange Verte 
is a soft (not weak), sophisticated, clean and complex citrus forward scent with some earthiness to it. I added two different types of orange notes, as well as lemon and bergamot. The black pepper gives it a nice twist & dimension, as does the lavender note. The oakmoss base is warm and inviting. I really love how this came out and think this will be considered among our top soaps.
Notes: Bergamot, tangerine, lemon peel, orange, black pepper, lavender, neroli, 
oakmoss & patchouli.
Kaizen 2e Ingredients
: 
Stearic Acid, Beef Tallow, Aqua, Goats Milk, Potassium Hydroxide, Kokum Butter, Shea Butter, Beer, Castor Oil, Sodium Hydroxide, 
Glycerin, Manteca, Aloe Juice, Avocado Oil, Apricot Kernal Seed Oil, Lanolin, Agave, Sorbitol, Slippery Elm, Sodium Lactate, Xanthan Gum, Emu Oil, Hyaluronic Acid, Silk Amino Acid, Colloidal Oatmeal, Yogurt, Tussah Silk, 
Marshmallow Root, Fragrance