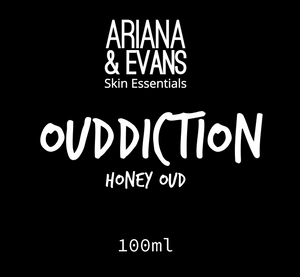 Ouddiction 
A somewhat gourmand scent from Ariana & Evans. There's a brash opening of cinnamon, vanilla and honey. The combination creates a wonderful accord with the light rose, cinnamon and honey dominating the early development. It's quite rich at the opening and deserves restraint. As it develops, the earthy sandalwood, oud and vanilla warm through the opening spices and the combination of these notes offers a sweet Middle Eastern like accord. A touch of saffron and patchouli really sets this nicely. As the VIP Members know, I have been working on this scent for about 8 months and finally ready to unveil to you.
Notes: Bergamot, Honey, Oud, Rose, Tobacco absolute, Saffron, Sandalwood, Vanilla, Patchouli
Ingredients: Aloe Vera Juice, Vegetable Glycerin,  SD 40B Alcohol, Rose Hydrosol, Calendula Extract , Red Clover Extract, Chamomile, Plantain Leaves, White Willow Bark, Vitamin E, Caprylic Triglycerides ( combination of plant sugars and fatty acids derived from palm and coconut oils for silkier feel and as a natural preservative).