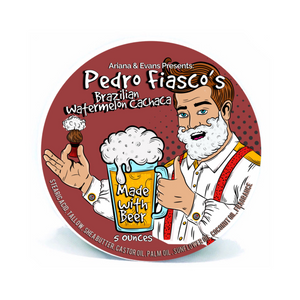 You know the story of Pedro Fiasco. He's a man of many talents and interests. He recently returned from a trip to Sao Palo and Rio (business & pleasure 😉). While admiring the beauty at Ipanema, the local beachside bartender Adriana served Pedro a special drink made of fresh Watermelon with cachaca. Cachaca is very similar to rum and made from cane sugar. My understanding is this drink is a specialty of Leblon.
scent notes: bergamot, lime, watermelon, mango, litsea, rum, brown sugar, guaicwood, tolu balsam & cedarwood 
The ingredients are as follows:
Ingredients:
1 cup cubed watermelon
1/2 lime, cut into wedges
2 tablespoons sugar
2 shots cachaça
Crushed ice
Directions:
Place the watermelon cubes into a blender, and blend until pureed.
Place the lime wedges and sugar into a cocktail shaker, and muddle.
Add the watermelon puree, cachaça and crushed ice to the shaker, and shake well.
Pour into chilled glasses, garnish with extra lime, and serve.
We have decided to turn Pedro's new favorite drink into a shaving soap & splash. Without a doubt, this will become a favorite throughout the world.
Ingredients: Stearic Acid, Tallow, Shea Butter, Castor Oil, Palm Oil , Sunflower oil, Coconut Oil, Fragrance

Adriana said you are all invited to her beach bar for drinks, cigars and dance!