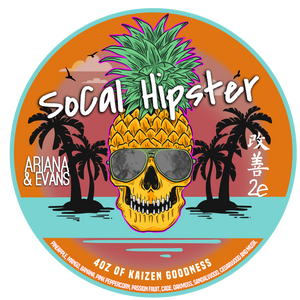 This smells wonderfully fresh, exotic and unique. There's a reason why this has become one of our top sellers.  It's not just a fruity scent...very well balanced with subtle changes from top to the wood base.
Notes: Pink peppercorn, pineapple, banana, passion fruit, mango, cade, oakmoss, sandalwood, cedarwood and musk.
Mostly pineapple at the top, settling on a beautiful woody base. 
Kaizen 2e Ingredients: Stearic Acid, Beef Tallow, Aqua, Goats Milk, Potassium Hydroxide, Kokum Butter, Shea Butter, Beer, Castor Oil, Sodium Hydroxide, Glycerin, Aloe Juice, Avocado Oil, Apricot Kernel Seed Oil, Lanolin, Agave, Sorbitol, Slippery Elm, Sodium Lactate, Xanthan Gum, Emu Oil, Hyaluronic Acid, Silk Amino Acid, Colloidal Oatmeal, Yogurt, Tussah Silk, Marshmallow Root, Fragrance