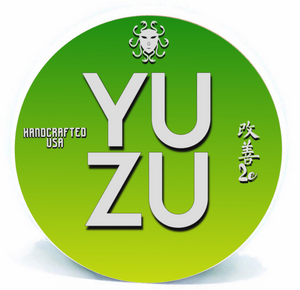 Yuzu has a tart, citrus smell that is a blend between Green Mandarin and Grapefruit. The scent brings together yuzu's bittersweet aroma with an A&E twist. This is citrusy, tangy, sweet & sour rolled in one. 

notes: bergamot, mandarin, yuzu, mimosa, ylang ylang, pepper, violet leaf, lotus, musk, sandalwood.

This scent is a throat punch of Yuzu with everything else supporting that note.
Kaizen 2e Ingredients: Stearic Acid, Beef Tallow, Aqua, Goats Milk, Potassium Hydroxide, Kokum Butter, Shea Butter, Beer, Castor Oil, Sodium Hydroxide, Glycerin, Manteca, Aloe Juice, Avocado Oil, Apricot Kernal Seed Oil, Lanolin, Agave, Sorbitol, Slippery Elm, Sodium Lactate, Xanthan Gum, Emu Oil, Hyaluronic Acid, Silk Amino Acid, Colloidal Oatmeal, Yogurt, Tussah Silk, Marshmallow Root, Fragrance